Lando (Coin & NFT)
Lando - Real Land Assets, Bought with Crypto™
The wealth gap around the world has grown to the point that most of the world can not live the dreams they had for themselves or their children. The pride of real estate ownership has been priced out of reach, but our team rejects that notion, we wanted to find a way to bring those dreams and pride back down within reach. This gave birth to Lando - bringing pride, bringing the financial rewards of property ownership to more people at a price they can afford.
Our founders bring a deep knowledge of digital design, cryptocurrency, and innovative systems thinking. We bring three decades of entrepreneurial, consulting and marketing experience with a passion for teaching others how to generate wealth for themselves. Unlike any other NFT project out there, we built this business to make you money! As you make money, our rewards will flow from your success.
I. Introduction
A. Cryptocurrency Ecosystem
A cryptocurrency is a digital currency designed to be used as a medium of exchange on a network of computers that can be decentralized from authority (governments or banks). Individuals store their currency in digital wallets (or addresses) and records of balances and transactions are stored in a digital distributed ledger (or blockchain), which is a computerized database using strong cryptography to secure transaction integrity. Each currency has its own blockchain ledger. While transactions and wallet addresses on each blockchain ledger is publicly viewable, the identity behind a wallet is anonymous unless the owner chooses to reveal themselves. Cryptocurrency is a $2 trillion market with over 18,000 currencies and tokens. But just two currencies account for 50% of that market share. Bitcoin, started in 2009 and is the largest cryptocurrency with a market value of over $740 billion. Ethereum (aka Ether), started in 2015, is the 2nd largest cryptocurrency with a market value of over $330 billion.
B. Ethereum, Smart Contracts, and NFTs
Ethereum was the most used blockchain since 2020, according to Bloomberg News. Two reasons for its popularity have been its Smart Contract and NFT feature. A Smart Contract is a decentralized computer application that can be run directly on the Ethereum blockchain based on pre-programmed and unchangeable rules. Ethereum also allows for the creation and exchange of Non-Fungible Tokens (NFTs), which are tokens that can be uniquely linked to digital works of art, virtual items or even real-world items, in our case, linked to real estate property.
C. Binance, Binance Smart Chain, and BNB
Launched in 2017, Binance has grown to be the biggest cryptocurrency exchange globally (based on daily trading volume) with a market value of $61 billion. Binance uses its own blockchain called Binance Smart Chain (BSC) that is a fork of Ethereum blockchain, so it has compatible Smart Contract and NTF features. Binance also has its own token, BNB. BSC allows for easy exchange between Ether and BNB token, increases transaction speeds, reduced transaction fees, and uses an eco-friendly consensus mechanism that does not require extensive electrical power for "mining," the mechanism used by Bitcoin and Ethereum.
II. NFT Market Opportunity
In 2021, $22 billion flowed into the NFT market buying everything from art, game tokens, to virtual land. Metaverse and virtual land accounted for 5% (or 1.1 billion) of those purchases. So we feel there's a real market opportunity to sell real world property, if it's done right. For example, just recently a 2,100 sq ft Florida, USA home sold as an NFT for 210 Ether (or $650,000) with over 3,000 cryptocurrency bidders.
Lando plans to introduce real world land, then eventually move on to other real estate opportunities. So why land? Because land has always been a great way to reduce portfolio risk, produce recurring income, historically appreciates faster than inflation. Lando sees real world land as an overlooked asset that has continually appreciated due to its scarcity; requires little to no maintenance; and provides many ways to add additional value.
Lando, seeks to bring the world of crypto an affordable and safer asset that is fully backed by real land. Later on in our Solutions section, we'll explain how we do it differently than others.
III. Problem
Crypto assets can fluctuate dramatically within a day, the gains yesterday can be gone tomorrow, or worse become a loss. Getting in and out of the market requires timing and a place to hold your gains.
While new products like stable coins have come along to allow users to move their gains into a currency pegged against the US dollar (or some other currency), that stable coin is still affected by negative currency or government monetary policy news, rising inflation, or the all too frequent hacking of its platform or treasury.
Another unattractive option might be off ramping the gains back into a fiat currency, but this incurs capital gains taxes. With the growing attack on crypto due to increased government regulations, it might be difficult or near impossible to find a bank that allows this crypto transaction.
What Lando offers is an alternative that allows users to protect their gains, stay ahead of inflation, and grow their gains by keeping their cryptocurrency in the market while away from taxes and government control.
IV. Solution
A. Nature of business
Lando is an uncomplicated way for you to acquire real world real estate assets with digital currency. As a result, you get the benefits of an appreciating stable asset without needing the traditional large sum of money. Lando NFTs lets you buy fractions of real property without the headaches of property maintenance, taxes, and insurance.
B. Why Real Estate Land?
With land, you can choose to do little or nothing! Real estate with buildings require renovations, maintenance, finding tenants and dealing with turnover. The secret to a good land deal involves knowing only one thing, "Is the property suitable for what I want to use it for?" For instance, changing the use of the property can instantly enhance its value; other options might include: leasing rights to others; rezoning it for a better use; sub-divide it into lots for resale; or selling it in a future market.
Land is an inexpensive long-term investment because you have no utility bills to pay, the cost of property insurance is nominal (if you have it at all), and property taxes are incredibly cheap. In addition to low carrying cost, land doesn't wear out and doesn't depreciate. Nothing can get broken, stolen, or destroyed.
Most importantly, land has limited, precious resources. Purchasing Land near a growing city or community puts your property in the path of growth and development, making your land highly valuable for future resale.
Parking your crypto in stable coins is a viable solution to hedge against market volatility, however stable coins can not do what Lando real estate backed NFT can do: protect your assets against inflation, offer income potential, appreciate in value, and real estate can not be hacked. Lando truly gives you peace of mind.
C. How Lando NFT backed Real Estate Works
| | |
| --- | --- |
| Identify | Identifies several undervalued properties that we can instantly enhance its value |
| Open Round | Each NFT round is associated with a specific property type, risk profile (low, med, high), profit generation plan, and minimum funding goal amount |
| Round Close | The round continues until either the countdown time expires or the goal amount is reached |
| Closing on Property | Holding company created and property purchased by holding company. Each property goes into a separate company for maximum legal protection. Typically closing completes within 30 days in an all cash deal |
| Mint NFT | Shortly after the closing, NFT minted backed by that exact property |
| NFT in Wallet | NFT owner's Ethereum or Binance wallet automatically receives the property NFT |
| NFT in Fiat Wallet | If you purchased by fiat, then Lando will securely hold your NFT in a third-party multi-sig custodial wallet and shown in Lando Member Console, in the My Properties section |
| Property Enhancements | Lando immediately gets to work on enhancing the property's best use. This is where our experts create instant appreciation, passive income potential, or prep for the best resale opportunity in the future |
| Property Updates | Owners can get property updates in Lando Owner Newsletters, discord, instagram, twitter |
| Voting | Occasionally, NFT owners will be asked to vote on issues related to their NFT backed property |
D. Benefit Explained (Our Differentiator)
Lando NFTs reduce your cryptocurrency portfolio risk by getting you out of the volatility of the market coins. Some of the unique benefits of Lando are:
Experts are identifying undervalued property
We accept US investors

We are a US-compliant Reg D, Rule 506 company

We own the real estate that backs each NFT
Each NFT is held in its own company, protecting it from other offerings
Each NFT grants you rights to income and appreciation, not ownership, that means no tax forms, no cap table, no legal, financial, tax, or maintenance obligations to holder on the NFT
A property may be refinanced in the future to purchase additional real estate, which would mint additional NFTs that are automatically added to the owner's wallet. These additional deals may be a mix of cash and financing
100% of NFT proceed goes towards the sale and management of the property
KYC not mandatory for small investment (under 1k US/Euro)
Additional benefits of our service:
Paid income goes directly back to the owner wallet
KYC'd NFT owners qualify to vote on property-related topics
NFT owners are eligible for exclusive discounts on future rounds, access to private member's only drops
V. NFT Purchasing Process
A. Property Round
Lando evaluates a set of similar properties, typically 3-5 each round, that appear to be undervalued in the market or currently not utilized to its maximum potential. We create a risk profile (ranked low, medium, high) to indicate expected effort required to bring them up to our determined best use. We create a profit generation plan for each property and a financial plan which includes the purchase price, cost of improvements, carrying, escrow, and long-term maintenance. We determine a funding minimum amount needed to execute on our plan and list the summary details of that round.
NFT Round - profile of property type, risk/reward, and funding minimum goal and maximum goal
Missed goal - raised funds returns to wallets
Property purchases are all cash deals
B. Registration
Presale - Pinksale Launchpad (https://www.pinksale.finance/)
Decentralized Exchange Listing - (https://pancakeswap.finance)
KYC/AML - High pledge and U.S. Accredited wallets

As US-compliant Reg D company - mandatory for US users
Off-chain services verifies KYC and personal data

Member Console - list properties, next rounds, KYC status
Privacy - we allow anonymous wallet purchases as long as its compliant with the user's local laws. Users will be asked self-identifying questions to determine eligibility
C. Purchase, Income Generation, and Sales Proceeds
Purchase - 100% of NFT proceed goes towards the sale and management of the property, however a typical breakdown is:

90% towards sale price + closing costs + annual tax and insurance + planned improvements
10% escrowed for carrying + maintenance costs

Income Generation - 86% of net profit from income generating properties are paid out as rewards to NFT owners on a quarterly basis back to the NFT holder's wallet, based on a percentage of NFT ownership
Sales Proceeds - 100% of net profit from the sale of property are paid out as rewards to the NFT holder's wallet, based on a percentage of NFT ownership
D. Lando Fees
Annual management fee: 9% billed monthly against NFT holding company
Profit sharing: 14% of net profit from income generation is billed against NFT holding company
E. Voting Rights
KYC registered NFT owners are qualified to vote on property-related topics. Unfortunately, we can not allow anonymous voting due to legal consequences a vote might create for the NFT holding company. While NFT holders are not legal owners of the property, the vote influences what legal action the NFT holding company might take in the real world, and in the country of its presence. In the U.S., and a few other countries, local authorities consider discussions related to real estate activities within their borders of special interest; this requirement is a preventive measure to protect the NFT holding company from unwarranted government scrutiny.
VI. Tokenomics
A. Token Sale vs NFT Sale
Lando's primary business is to sell Non-Fungible Tokens (or ERC721) that are minted per property, also known as $LANDONFT. These tokens are created and sold on a per property basis as each round is closed.
We also provide a utility ERC20 token, known as $LANDO. $LANDO is not a NFT or backed by any property; it's used exclusively as a means to help fund this Lando Project. LANDO tokens are created only once, with a maximum total supply that will never increase. As an incentive to holding (and staking) your Lando tokens with us, you will get discounts on NFT sales, preferential access to private and public sales, access to exclusive events, airdrops, and other planned future benefits. The details below in section B and C are related only to our ERC20 token sales.
B. Total Token Supply ($LANDO): 500,000,000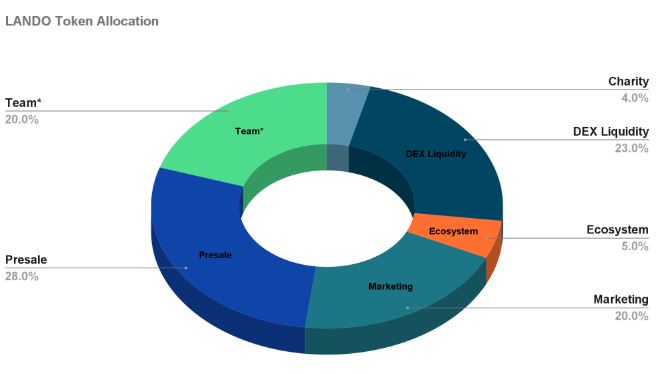 | | | |
| --- | --- | --- |
| Charity | 4.00 | 20,000,000 |
| DEX Liquidity* | 23.00 | 115,000,000 |
| Ecosystem | 5.00 | 25,000,000 |
| Marketing | 20.00 | 100,000,000 |
| Presale | 28.00 | 140,000,000 |
| Team* | 20.00 | 100,000,000 |
| Total | 100.00 | 500,000,000 |
Decentralized Exchange (DEX) Liquidity: Locked for 1 yr, then moving LP to larger DEX/CEX
Team: 120 days locked. 10% first month, then 5% per month for 19 months
C. Token Sale ($LANDO)
| | | | |
| --- | --- | --- | --- |
| Presale | $0.0249 | 140,000,000 | Estimated max tokens |
| DEX Liquidity | $0.0311 | 115,000,000 | + remaining unsold Presale tokens |
| Total | | 140,000,000 | |
VII. Technology & Security
A. Technology Stack
Our tech stack is highly scalable and secure, the websites and member system runs on the AWS architecture, utilizing some of the following systems: API Gateway, CloudFront, DynamoDB, EC2, Lambdas, RDS, Route53, S3).
The Member Console integrates MetaMask, Binance Wallet, and other wallet providers. The wallet integration allows users to interact directly with the blockchain and our contracts to attain publicly verifiable transaction and ownership details.
B. Smart Contracts
Lando smart contracts will be made up of an ERC20 token contract (ie LANDO), ERC721 Non-fungible Token contract (LANDONFT), and a smart contract that acts as a factory for two other smart contracts. Lando contracts are a collection of EVM-compatible smart contracts.
The LANDONFT contract acts as an escrow contract. During the purchasing period of a round and the closing of the round, the buyers deposit money and if the minimum goal is met the funds can be withdrawn by Lando; however, if minimum is not met, the funds can only be withdrawn by buyers.
C. KYC/AML Services
Third-party KYC services are connected to our Member Console system. KYC approval or denial is outside of Lando's control. KYC services may consist of both on-chain and off-chain verification services to comply with country-specific Know Your Customer and Anti-money Laundering. As a US-compliant Reg D company, this is mandatory for U.S. customers. Other KYC requirements for non-U.S. customers may apply, as regulations for cryptocurrency have been and continue to be very fluid. Should a buyer be rejected due to KYC, they will be notified via email and any funds previously sent to our contracts will be returned to their wallet.
VIII. Road Map
Q1 2022
Pre-launch website (reallando.com)
Whitepaper
Partnership research
Team expansion
Q2 2022
Marketing
Token smart contract - audited, released to Binance Smart Chain ($LANDO)
Token Presale (Pinksale Launchpad)
Token DEX listing (Pancakeswap)
Team expansion
Q3 2022
NFT Smart Contract (audited, released to Binance Smart Chain)
NFT DEX listing
Land NFT Round 1, 2 ($LANDONFT)
Q4 2022
Exchange listing (Binance, Gemini, FTX)
Team expansion
Land NFT Round 3, 4, 5, 6
Oracle for property deed tracking
Q1 2023
Land NFT round continues
Mobile app for IOS and Android
NFT and rewards custodian wallet services (third-party provider)
Fiat on/off ramp
Q2 2023
Land NFT round continues (international expansion)
Rental property NFT begins
Team expansion
Token on larger DEX/CEX listing (Binance)
Rodney brings a deep knowledge of digital design, cryptocurrency, and innovative systems thinking. While Ron, brings three decades of consulting and marketing experience with a passion for teaching others how to generate wealth for themselves. Unlike any other NFT project out there, we built this business to make you money! As you make money, our rewards will flow from your success.
Rodney Small, CEO and Founder
20+ years as leader, software consultant and owner of multiple businesses
Real estate developer, Landlord, Licensed Real Estate Agent
Ronald Sherbert, CMO and Founder
32+ years as owner of multiple businesses
18+ years as a consultant and corporate trainer
X. Community/Contact
Lando - https://reallandon.com
Lando Twitter - https://twitter.com/lando_coin
Lando Real Estate Album - https://www.instagram.com/lando_coin
Lando Blog - https://medium.com/@lando_coin
Lando Discord Community - https://discord.gg/hAzRKeaNJf
Get in Touch - marketing@reallando.com
XI. Domain Assets
realLando.com - LANDO NFT + LANDO Coin sales
landoCoin.com - LANDO Coin utility token
landoNFT.com - Lando NFT Resale Marketplace
landoDAO.com - Voting Service for Lando NFT owners
Disclaimer: The ownership of Lando (aka reallando.com, landocoin.com) does not represent any participation in Lando capital nor any rights of payment, remuneration, profit distribution or money reward of any kind. This White paper has been prepared in good faith to provide a comprehensive overview of the Lando project, Lando token, and Lando NFT, and is for information purposes only.
With the development of the Lando platform, it may be amended in the following. Please also note that the Lando Project itself may be redesigned or otherwise revised in future, if that would be required for any material reasons (including, but not limited to: commercial considerations, technical possibilities, or the need to ensure compliance with any (existing or future) applicable laws and regulations, or any other material reasons). Lando tokens or NFTs are not intended to constitute securities in any jurisdiction.
The Lando Whitepaper does not constitute a prospectus or offer document of any sort and is not intended to constitute an offer of securities or a solicitation for investments in securities in any jurisdiction. The contents of this document are not a financial promotion. Therefore, none of the contents of the Lando Whitepaper serves as an invitation or inducement to engage in any sort of investment activity.
Lando intends to register its sales with U.S. Persons under Rule 506(c) with the Securities and Exchange Commission (the SEC). U.S. Persons, as defined in Regulation S under the U.S. Securities Act of 1933, as amended (the U.S. Securities Act), are prohibited from accessing Lando tokens or NFTs, unless they are in full compliance with state and Federal laws regarding purchasing of digital assets. Under Rule 506(c), Lando (reallando) can broadly solicit and generally advertise the offering, but still be deemed to be undertaking a private offering within Section 4(a)(2) if all of the other requirements of Regulation D are met in the event: (a) the investors in the offering are all "accredited investors"; and (b) the company has taken reasonable steps to verify that its investors are accredited investors. Accredited investors under Rule 501(a) of the Securities Act include any individual that earned income that exceeded $200,000 (or $300,000 together with a spouse) in each of the prior two years, and reasonably expects the same for the current year, or has a net worth over $1 million, either alone or together with a spouse (excluding the value of the person's primary residence).
Do not contribute any money that you can't afford to lose in the Lando token or NFT sales. Make sure you read and understand this Whitepaper and TERMS AND CONDITIONS FOR PARTICIPATING IN ANY SALE ON LANDO PLATFORM (including all warnings regarding possible token value, technical, regulatory and any other risks; as well as all disclaimers contained therein), as will be published on our website https://reallando.com (as they may be amended from time to time).
If you have any questions regarding the Lando project, Lando tokens, Lando NFTs, the contents of this White paper, please, do not hesitate to contact marketing@reallando.com or https://discord.gg/hAzRKeaNJf.
Revisions:
V1.0 - Apr 11 2022
V1.1 - May 13 2022
Real Lando LLC
A US-compliant Reg D, Rule 506 company